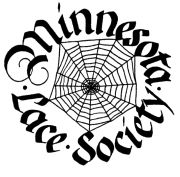 Young Lacemakers
The Minnesota Lace Society is excited to take on this new project. We are teaching a class of 12 young lacemakers ranging in age from 9 - 11. This is part of a weekly activity co-operative organized by a group of homeschoolers. The students are learning the art of bobbin lace. The class began in January and runs until May, meeting weekly for 1 hour.
Members of the Lace Society are taking turns teaching and helping the students. We usually have a 1 to 3 ratio of teachers to students, plus a student helper.
All the children are having a good time with their new skill.
Enjoy the photos and watch the progress of the young lacemakers!